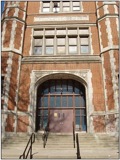 2332 Beechwood Blvd.
Pittsburgh, PA 15217
412-422-3525
412-422-4896 (Fax)
Make a donation to the Colfax PTO
Donations benefit enrichment programs for Colfax students.
Pittsburgh Colfax PTO Donation Request Form
The PTO will recognize all donors (alphabetically and without mention of amount) in the first newsletter of the New Year. If you wish not to be recognized, please let us know by entering the donor name as "anonymous." Please know that a gift of any amount is welcomed, appreciated and will be put to good use.
To donate online, click the Donate button below. After you have selected your donation amount, please click the "Donor name(s)" link to enter your name so that we may recognize you.
Please also type your home address so we can send you an acknowledgement and tax receipt. If you prefer, you can send this information via email to PTO Vice President, Fundraising.
Thank you for your support!