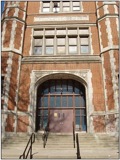 Colfax PTO Home
2332 Beechwood Blvd.
Pittsburgh, PA 15217
412-422-3525
412-422-4896 (Fax)
2016-2017 School Hours: 8:10 am - 2:51 pm
Pittsburgh Colfax K-8 Parent-Teacher Organization
The Colfax Parent Teacher Organization (PTO) supports Colfax K-8 through fundraising, organizing volunteers, planning events, and facilitating communication between all members of the Colfax community. In 2012, the Colfax PTO was recognized with a Parent Group of the Year Honorable Mention by PTO Today.
Announcements
Stay informed about what's happening at Colfax by signing up for the PTO's weekly email announcement list.
It's time to get ready for Carnival!
Pre-sale tickets will be available to pick up at WILL CALL from 5:30 to 6:30 at the carnival. WILL CALL will be its own separate line at the ticket booth.
---
Thank You for joining us at the Colfax PTO's 11th annual Party 4 Play on Saturday, February 25. The evening was a great success! As always, we appreciate the generosity of Colfax's parents, family and friends who support the many outstanding programs funded by the PTO. We especially thank this year's sponsors and patrons. Go Cobras!
A manual is now available for the new online parent access system.
There will be an after school program at Colfax for children in grades K through 5. For more information see the PPS Early Childhood web site.
Colfax PTO parent handbook is now available online. Please note that the handbook is currently being updated for the 2016-17 academic year. If you have any questions, contact the Colfax front office.

2016-2017 Colfax PTO calendar
Calendar
Links
Pittsburgh Public Schools and Related Information
Other information
Send website updates to: web AT colfaxpto DOT org