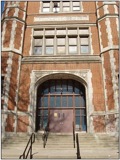 2332 Beechwood Blvd.
Pittsburgh, PA 15217
412-422-3525
412-422-4896 (Fax)
Colfax Carnival 2017
It's Time To Get Ready For Carnival!
Who: EVERYONE! What: Celebrate the end of school When: Tuesday, June 6th from 5:30 - 8:30 pm Where: Colfax How: With your help!
Come celebrate the end of the school year in style at the annual Colfax Carnival! We hope to have lots of Colfax students and families join us for the fun!
---
The ticket pre sale is over. Please buy your tickets at Carnival!